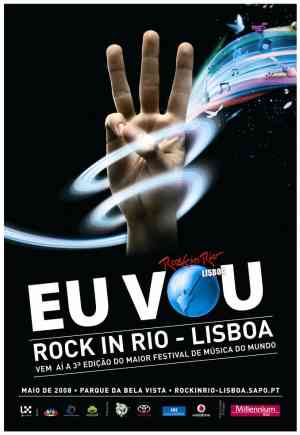 Os três primeiros dias do Festival Rock in Rio Lisboa deste ano tiveram 209.000 espectadores, segundo dados divulgados hoje pela organização.
O cartaz dos dias 30 e 31 de Maio e 01 de Junho incluiu nomes como Amy Winehouse, Bon Jovi, Lenny Kravitz, Xutos & Pontapés, Tokio Hotel, Joss Stone ou Rod Stewart no palco do mundo.
Segundo a organização, um inquérito realizado junto de 12.000 pessoas, revelou que 90 por cento dos espectadores se deslocaram ao Parque da Bela Vista, em Chelas, utilizando os transportes públicos.
Durante os três primeiros dias - o Rock in Rio regressa no próximo fim-de-semana -, o Instituto Nacional de Emergência Médica registou 611 ocorrências.
Segundo a organização, nenhuma das ocorrências revelou gravidade, tendo "as situações mais frequentes registadas sido traumas menores (entorses, contusões), picadas de insectos e intoxicações alcoólicas".
Quanto à segurança, registou-se apenas "um furto de telemóvel, uma tentativa de acesso ao evento com bilhete falsificado e três tentativas goradas de intrusão no recinto".
No próximo sábado sobem ao Palco Mundo os Metallica, Machine Head, Apocalyptica e Moonspell, no domingo, dia de encerramento, será a vez dos Linkin Park, The Offspring, Muse, Kaiser Chiefs e dos Orishas que recentemente lançaram um novo album.
No palco Sunset Roc
k in Rio actuarão André Indiana & SP & Wilson, Wraygunn & The Faith Gospel Choir Featuring The Legendary Tiger Man, e Tim & Jorge Palma.
No domingo será a vez de Caim & Plaggio, as duas bandas vencedoras dos concursos de bandas de Lisboa e Porto, Buraka Som Sistema, Deize Tigrona e Bruno M e Clã & Pato Fu.
O festival despede-se este ano da capital portuguesa, mas apresenta-se dias 27 e 28 em Madrid, regressando a Lisboa em Maio de 2010.
This entry was posted on 04 junho 2008 at 03:20 . You can follow any responses to this entry through the
comments feed
.